FOR IMMEDIATE RELEASE: Date 8 September 2012
GrayFox3500: OMAP FPGA Linux Software Development Kit for Motion Sensor & Signal Processing Application
TORRANCE, CA. September 8, 2012 – Alico Systems, Inc. (www.alicosystems.com), a leading provider of Sensor and Signal Processing systems, announced today the immediate release of Grayfox3500, a Linux-based OMAP FPGA Software Development Kit. GrayFox3500 brings OMAP based Linuxand FPGA development into a single development platform.
Gone are the days that you have to write software drivers for the software development kit onboard I/O components. The GrayFox3500 software product is designed to support Alico's Kinetic3500 OMAP FPGA Sensor Development Kit (SDK) hardware (See Figure) which offers production quality source code for:
· Software drivers for sensory components including the tri-axis MEMs accelerometer, tri-axis MEMs gyroscope, temperature sensor, tri-axis magnetometer, GPS module, as well as the OMAP general I/O interfaces such as Ethernet, USB, I2C, SPI, and GPIO.
· A collection of test scenarios, written to validate the sensor drivers and the OMAP NEON coprocessor.
· Embedded web server for accessing the on board sensor data and custom web page creation and customization.
The Xilinx Spartan 6 FPGA on the Kinetic3500 SDK offers additional flexibility to developers to implement custom hardware functionality and signal processing algorithms without hardware redesign. VHDL source code files are also included in Grayfox3500 for the high speed Analog/Digital Conversion, Digital/Analog Conversion interfaces as well as the OMAP-FPGA interface. These source code files can provide quick project turn-around time and easy integration with the user's own FPGA design in VHDL or Verilog.
In the nutshell, GrayFox3500 is an essential software development tool for system and software designers who want to jumpstart the creation of their OMAP product differentiating features without being slowed down learning the fundamentals of OMAP technology or figuring out how to write software drivers for sensor devices. "Our Software Development Kit can dramatically reduce the time to market for the development of Motion Sensor and Signal Processing Products. We offer a turnkey product that works out of the box without months of getting up to speed for developing applications" said Alico President & CEO Syed Akbar.
GrayFox3500 Source Code Software and Kinetic 3500 HW and Firmware Sensor Development Kit combination is an ideal platform for sensory applications where rapid prototyping and quick time-to-market are critical. The customizable end user applications could include embedded industrial applications, rugged portable applications such as high-speed data logging applications, vehicular, robotic and location tracking applications, motion control and stabilization platform for SATCOM On-The-Move terminals, and high speed video encoder/decoder applications.
GrayFox3500 product will be offered in two source code licensing options "Single Project/Product" or "Single Facility Multi-Project/Product". Each license type includes the kernel, Board Package Support (BSP), Web based GUI, boot-loader utility, onboard sensor driver software, one year technical support and unlimited software updates. The Single Project/Product license is $4,995/license and the Single Facility Multi-Project/Product is $7,995/license. After the initial purchase, there is no recurring per unit or per seat cost and no license fee for creating executable code from licensed source code. The license includes one year of product support and upgrades.
For more technical and pricing information about the just released GrayFox3500 Software or the Kinetic3500 SDK Hardware, please contact Alico Sytems, Inc. at www.alicosystems.com, or by email sales@alicosystems.com or by phone (310) 781-9555.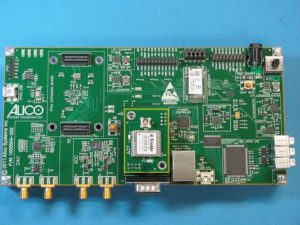 About Alico Systems, Inc.
Alico Systems, Inc. is an advanced technology business specializing in the design and development of commercial and military network communication systems, especially wireless networking and SATCOM-On-The-Move products. Our core competencies include communication systems architecture, phased array antenna design, RF design, digital microprocessor and FPGA design, RTOS firmware design, inertial navigation systems hardware and software development and network management systems design.
Media Contact
Shawn Nguyen
Shawn.nguyen@alicosystems.com
310-781-9507
FOR IMMEDIATE RELEASE: Date 27 October 2011
Kinetic3500: OMAP FPGA Motion Sensor Development Kit
ALICO SYSTEMS RELEASES TURN-KEY PROGRAMMABLE SENSOR DEVELOPMENT KIT
TORRANCE, CA. October 27th, 2011 – Alico Systems, Inc. (http://www.alicosystems.com) announced today the immediate availability of its Kinetic 3500 OMAP FPGA Sensor Development Kit (SDK). Kinetic 3500 is a turn-key embeddable sensor development kit based on open source software.  Powered by a Texas Instruments (TI) OMAP3530 (Cortex A8 RISC processor and DSP) together with a Xilinx Spartan 6 FPGA plus a rich set of sensor peripherals including a tri-axis MEMS gyroscope, tri-axis MEMS accelerometer, tri-axis magnetic sensor, a GPS module, a temperature sensor, and high speed 20 Msps 12 bit A/D and 14 bit D/A converters. The Alico Kinetic 3500 SDK product will be delivered with a full set of sensor capabilities that are operational out-of-the box.  Kinetic 3500 reduces ramp-up time on learning the fundamentals of OMAP and FPGA technology, getting up to speed on information about open source software and writing basic software applications that allows developers to focus their time and resources on developing product differentiation features. The Kinetic 3500 embedded Web based GUI provides extensive diagnostic and configuration capabilities. The onboard FPGA gives developers additional flexibility to implement custom hardware functionality and signal processing algorithms without actual hardware redesign.
Alico's Kinetic 3500 (priced at $1,695 each) is an ideal platform for sensory applications where rapid prototyping and quick time-to-market are critical. These applications include embedded industrial applications, rugged portable applications such as high-speed data logging applications, vehicular, robotic and location tracking applications, motion control and stabilization platform for SATCOM On-The-Move terminals, and high speed video encoder/decoder applications.
For more information about the just released Kinetic 3500 SDK, please visit http://www.alicosystems.com. For system pricing, please contact Alico Systems, Inc. at (310)781-9555 or email to
Company Background
Alico Systems, Inc. is an advanced technology business specializing in design and development of commercial and military mobile wireless network systems, including SATCOM-On-The-Move terminals, wireless networks, motion sensor products, inertial navigation systems and network management systems. We offer fully integrated products using our in-house designed antennas, RF, digital, firmware and mechanical designs.
Media Contact:
Shawn Nguyen
shawn.nguyen@alicosystems.com
310-781-9555